I've been using HTML tables for my web building for quite some time now, and while not always conforming to w3c, I've managed to get my pages working and looking the same in all browsers (Windows, mac and linux alike)
The thing it, I know full well that it's time to start laying out my pages with CSS. I should have started on my last build (www.minervapendragon.com), but it's the tables that keep putting me off. For some reason, I can't get to grips with them.
What I'm trying to do on this latest build is create the following...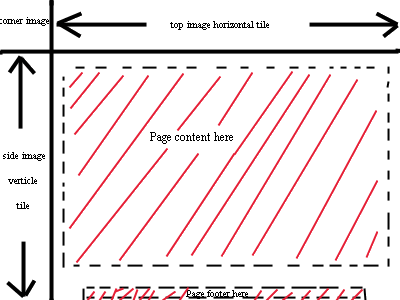 ..which in HTML is no trouble at all. However, I'm finding that in CSS I just cant get that cell in the corner to work.
Ignoring the main content of the page (if I have something to "backwards-engineer" so to speak, and see how it's done properly it shouldn't be a problem to structure the real content), can anybody give me any pointers on how I go about creating such a structure. I've been through a few different tutorials and I'm still stuck (so if you know one that can make tabling easy for me please let me know!)
Now might also be a good time to mention that the column on the left will have navigation buttons on it, so I need to actually be able to place stuff in that column.
any help would be most appreciative, as it's stress I seem to be bringing on myself by overcomplicating things in my own mind - and given that I'm building this site for a small charity type thing (ie, for free and not for my own benefit), I could probably do without it. Any help would stop my hair falling out so quickly, in short.
Extremely new - need layout/background help
It's on my local machine right now, being the very first stage of trying. I can upload something tomorrow to demonstrate what I've tried.
In the mean time, instead of having a corner piece, a left column, and a top row, each containing a separate image, would it be possible to have a row straight across the top where the corner is placed in the corner, and the tileable section goes right next to it in the same row? That would probably solve the problem altogether. Just a thought.