Hi again, i've recently completed the design of a wee Ocean Colour Scene (rock band from England) website for fans! Just wondering what you lot think of it.
http://www.theDownstream.co.uk
I know the shapes a bit "unusual" but i wanted to give the site a different feel and try to theme it more. The group have "mod" influences which is a British fad/movement from the 60's, thats supposed to explain the target symbol-style anyway!
Looks nice. Two issues with
Looks nice. Two issues with the page:
1) a slight misalignment on pages that don't have a scroll bar:


2) the text is rather smallish and boosting it up just two sizes causes this: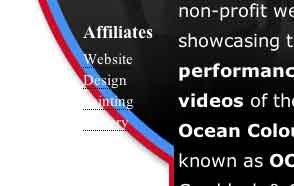 It is a very interesting design though, I do like it. Perhaps taking the content out of the side area of the circle would be a good idea so that issue #2 becomes a non issue or better yet look into text replacement techniques for those items.