Hi all,
I'm currently working on a phpWebSite themes series called "HyperSpeed" (see HyperSpeed Theme) and found a little strangeness with it in Internet Explorer 7. Not sure where to post it, so please feel free to move it somewhere else.
In FireFox 1.5 and Opera 9.1, the themes look the way they should. But in Internet Explorer 7.0, I get a gray margin of 17 pixels height before the actual content which I don't want. There used to be some kind of Internet Explorer warning about a needed plugin there (which I don't understand as I'm not using any embed-statement). Apparently, I've clicked that away, now only the gray area is to be seen.
Here's how it looks in FireFox 1.5: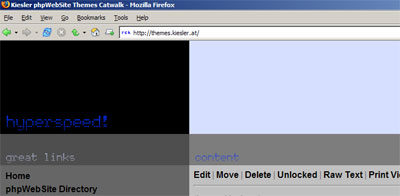 And here's how it looks in Internet Explorer 7 (note the gray bar between the IE chrome and my theme)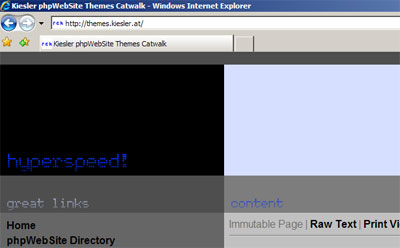 And yes, the page seems to validate according to Firefox HTML Validator plugin 0.7.9.5.
So in a nutshell:
a) how can I get that gray area away?
b) how can I stop IE 7 from requireing a multimedia-plugin for my theme?
c) also: any idea how to install a IE 6 standalone version? I couldn't find a working link...
Thanks for any help,
Ren
Fix your invalid html first.
Fix your invalid html first. CSS depends on valid html or xhtm and if you don't feed it that you have no basis to complain about the results. This may or may not fix your problem all by itself, but it is a prerequisite that you give us valid html or xhtml to work with for diagnosis, so get to work.
Also why the transitional doctype? It should be strict for any new page.